I am trying to run a standalone IPFS node using the instructions here:
This is the command I'm using:
sudo docker run -p 0.0.0.0:8011:8011 -p 0.0.0.0:5001:5001  -v /home/ldg/statestore:/data/ipfs --name ipfs ceramicnetwork/go-ipfs-daemon

But it's not working correctly, if I try go to the web UI I get: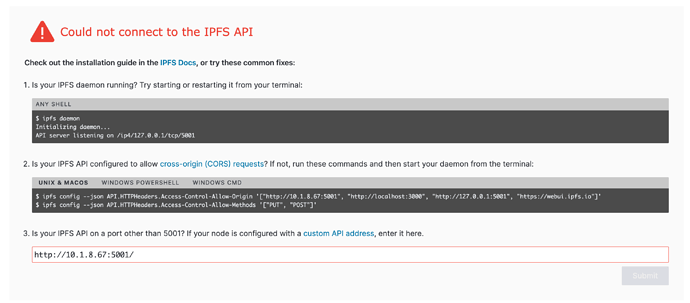 And if I try point Ceramic to the node it errors. If I look in the inspector there's various 404 errors and some 403 errors.
The instructions on the documentation make it seem like it should work out the box, but it doesn't. I've experimented with various firewall ports being open, being quite liberal but nothing seems to make a difference.
Do you have any idea what could be causing these issues?